YAXX Director
Ellery Frahm, Ph.D.
ellery.frahm@yale.edu • personal website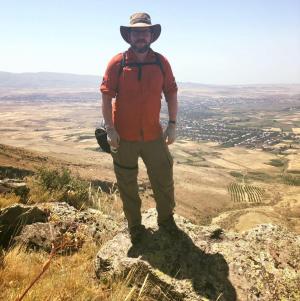 Dr. Ellery Frahm has more than 17 years of X-ray spectrometry experience, and he started using portable X-ray fluorescence (pXRF) as an analytical tool in archaeology in 2006. His pXRF data are the first to be published in the journal Science.
He studied Physics and Anthropology at Grinnell College, a liberal arts college in central Iowa. He completed his Master's degree in Interdisciplinary Archaeological Studies and his doctorate in Anthropology at the University of Minnesota. During graduate school, he also managed the University of Minnesota's Electron Microprobe Lab, a state-of-the-art facility for X-ray spectrometry and electron microscopy that served not only scholars in the earth, environmental, and materials sciences but also commerical clients in a variety of industries, including medical devices and metallurgical technologies.
As a Marie Curie Experienced Research Fellow at the University of Sheffield in England, his postdoctoral project, titled Portable XRF Applications in Archaeology, played a central role in the €4.6-million NARNIA (New Archaeological Research Network for Integrating Approaches to Ancient Material Studies) Project. 
He has taught a range of STEM-based courses, including Electron Microprobe Theory & Practice at the University of Minnesota and Introduction to Archaeological Laboratory Sciences at Yale. He also works with undergraduate and graduate students on their projects, from the initial research design to presenting and publishing their findings.
Associated Scholars
Council on Archaeological Studies
Click here for profiles of the faculty in seven departments
Department of Anthropology
Click here for profiles of the faculty, students, and postdocs